Kawaii "Love Edition" - Journey of Tutti Frutti
Love is something which makes everyone's life beautiful. Love is a blissful experience, where one can make it fruitful by having a notion of giving to the other. 
Here, I have visualised and illustrated the sweet little things which makes every couple's journey into a beautiful one and how it makes their bonding even closer and stronger. 
This series is all about the love journey of an adorable couple Tutti and Frutti. 
Tutti, the boy in this story tries and expresses his love for his girl Frutti in every possible way. Their love grows and glows.
Have a look at the lovely jubbly illustrations of "Love Edition" done in Kawaii, art style from Japan, presented to you with an Indian touch. 
Original illustrations in Kawaii, Japanese art form, with an Indian touch. In partnership with
Rose Day - The journey of Tutti and Frutti begins with the Rose Day. Tutti expresses his love for Frutti in a beautiful rose garden by gifting her a pink rose which symbolizes love, respect & admiration. Even a small token of love, will make the relationship stronger and beautiful. 
Propose Day - On a lovely day, Tutti wants to show and confess how much he loves Frutti. He buys an adorable ring for her pretty finger and proposes to her. Frutti is spellbound and blushes. They promised to love each other more till eternity.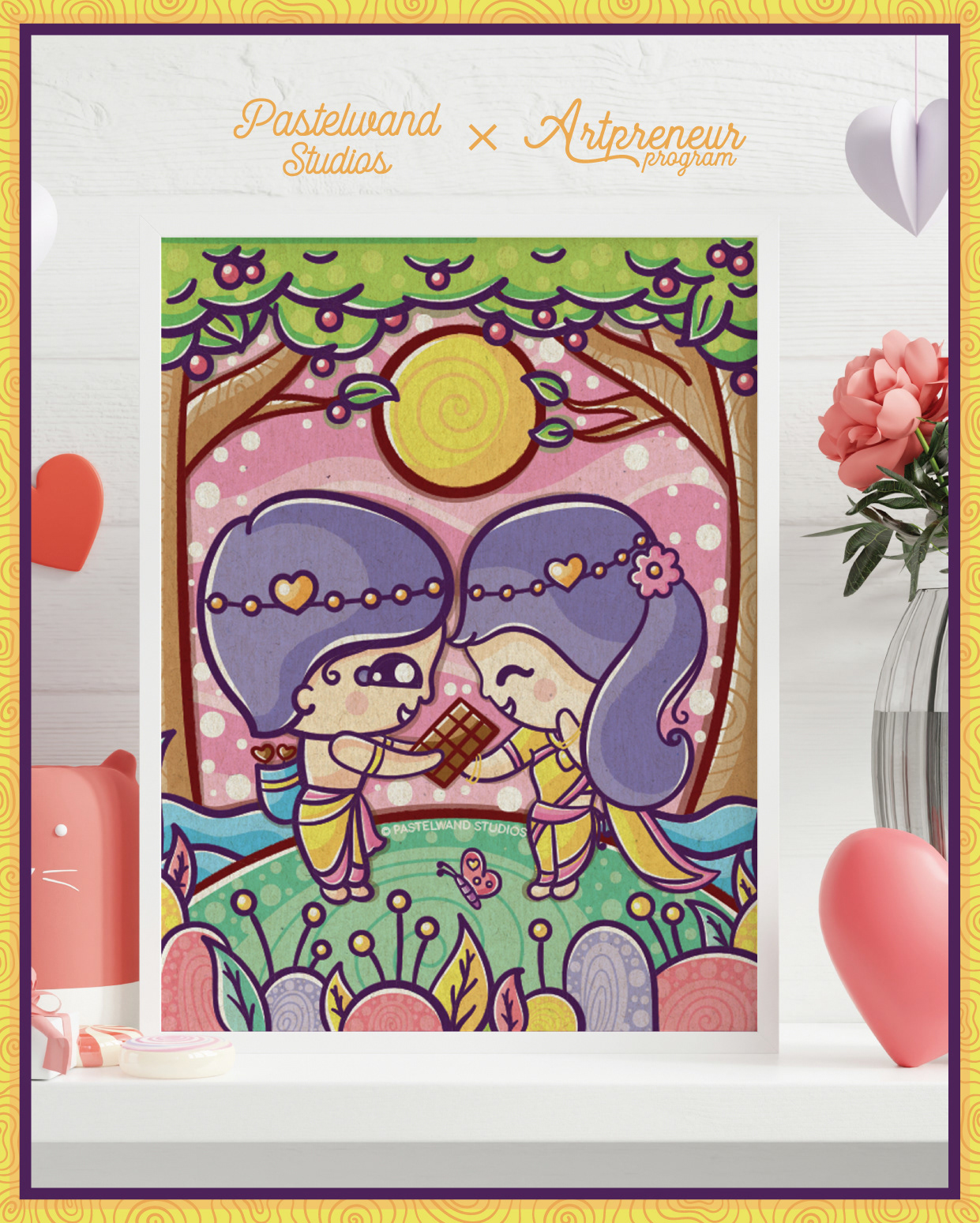 Chocolate Day - Frutti loves chocolates a lot. Knowing this, Tutti buys a big chocolate to shower her with his sweet love gestures. What can be better than surprising our loved ones with their favourite thing in the world? And whenever Tutti wants to apologise, he quickly buys a chocolate before he meets her. Chocolate makes Frutti forget everything else and their love journey continues blissfully.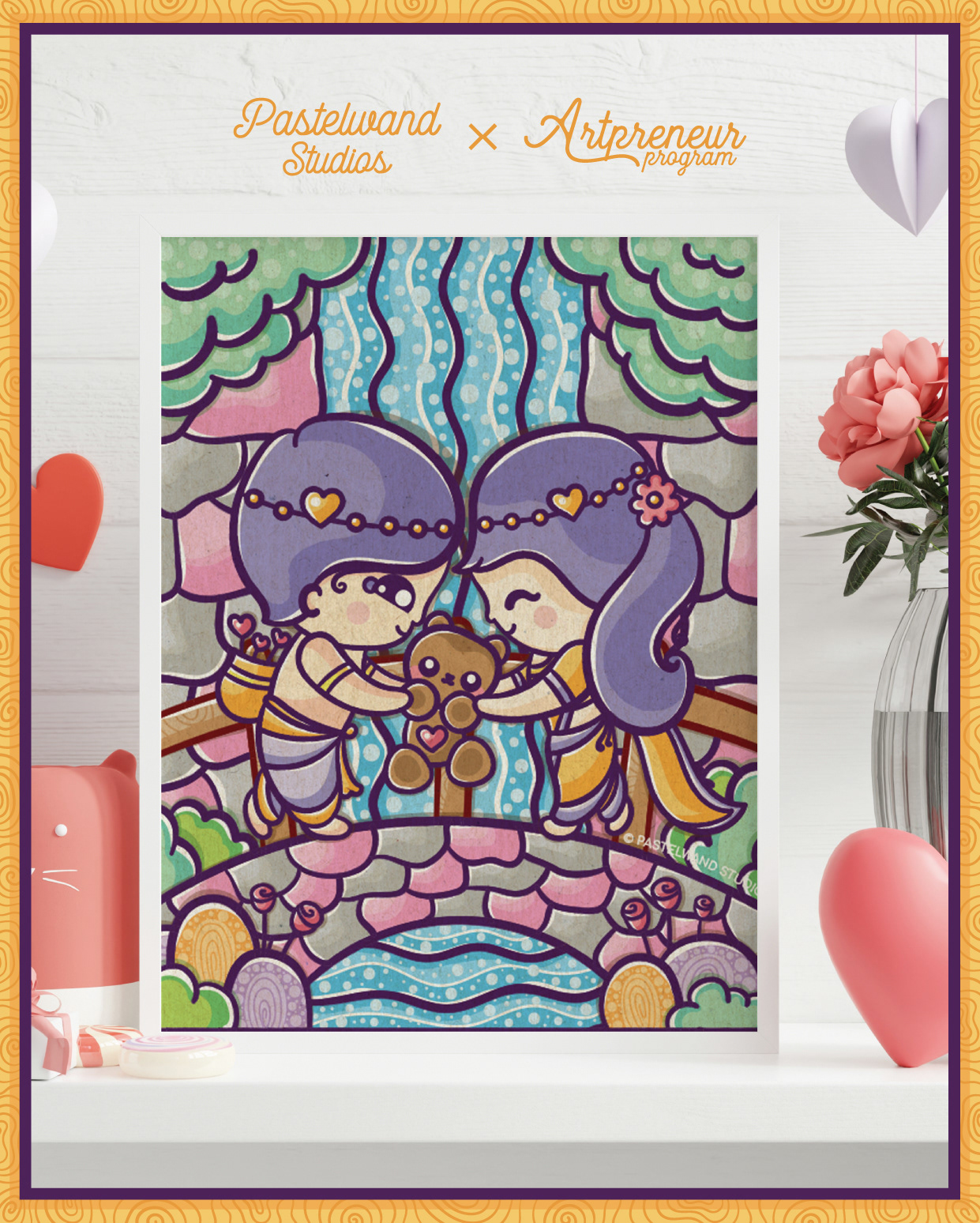 Teddy Day - Every girl's first cuddling partner is a cute soft teddy bear. Tutti makes a surprise visit to Frutti's place with a huge box, Frutti is puzzled and when she opens the box, she is filled with joy when a big cute teddy in her favourite colour pops out. Happy tears rolls from her eyes. Their love is immeasurable. 
Promise Day - Tutti always keeps his words by doing whatever he says. He does not just promise Frutti something, but he shows it in his actions. He stands by her side no matter what and he is her constant source of love, support and care.Thus, they cherish their life with love and happiness. Tutti and Frutti embrace their bond and make it even more beautiful. 
Hug Day - The best way to express one's love and care for a person is by hugging them. Tutti hugs Frutti and they both feel the warmth and celebrate their bond of closeness. Embracing your loved one in your arms is the best feeling one can ever get.
Kiss Day - A kiss is a gesture to express mutual affection. In a lovely garden, Tutti gently holds Frutti's hand and kisses her. She is filled with joy and overcome with shyness. They renovate their spark of love by expressing their love for each other in every possible way.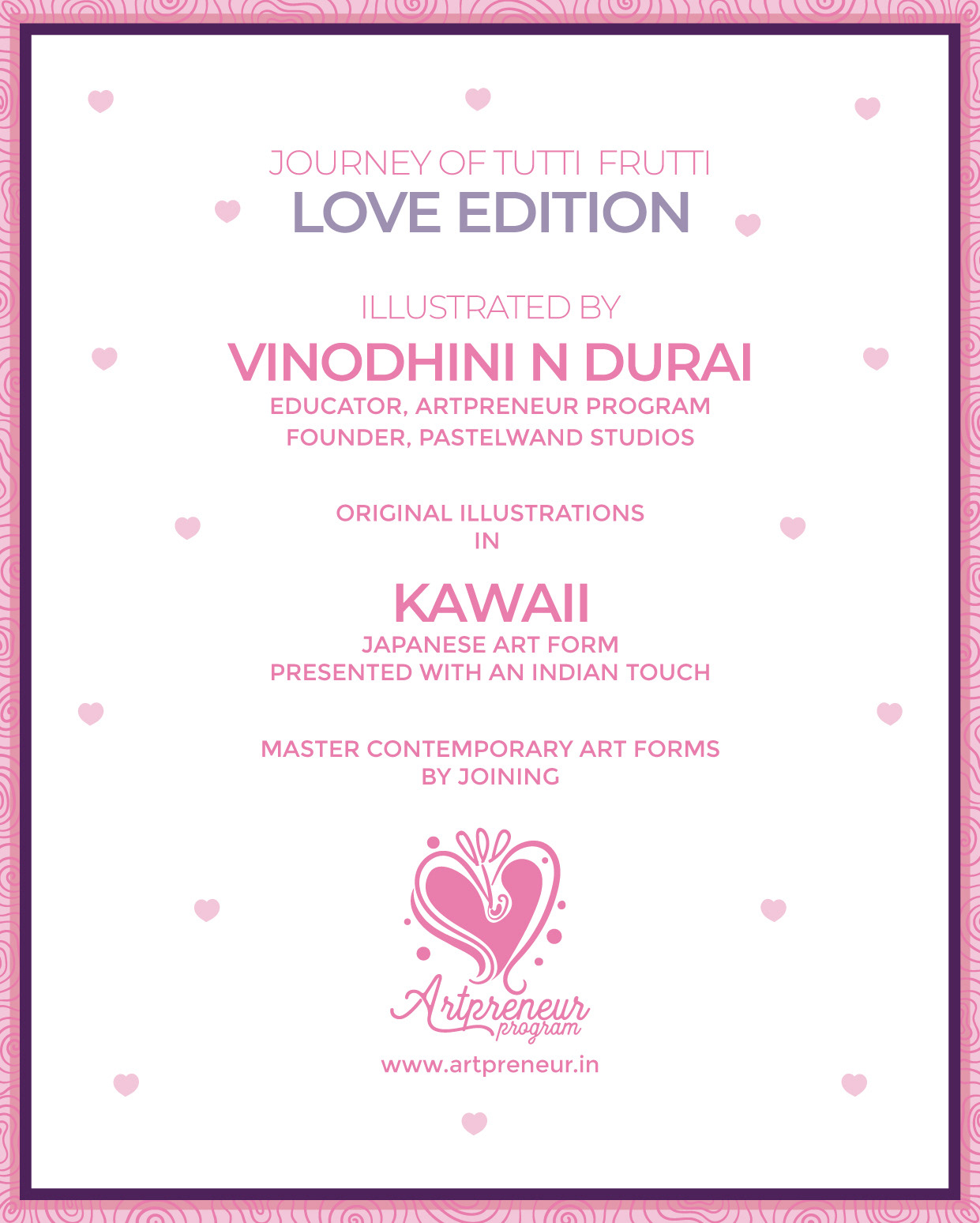 Valentine's Day - Tutti wants to give a grand surprise to Frutti on Valentine's day. On a bright full moon day, Tutti plans for a romantic date night on a boat, in the middle of the pond covered with lovely lotus flowers. Under the moonlit sky, they both have a long conversation, express their feelings and have a wonderful time, making it one of the most memorable times together.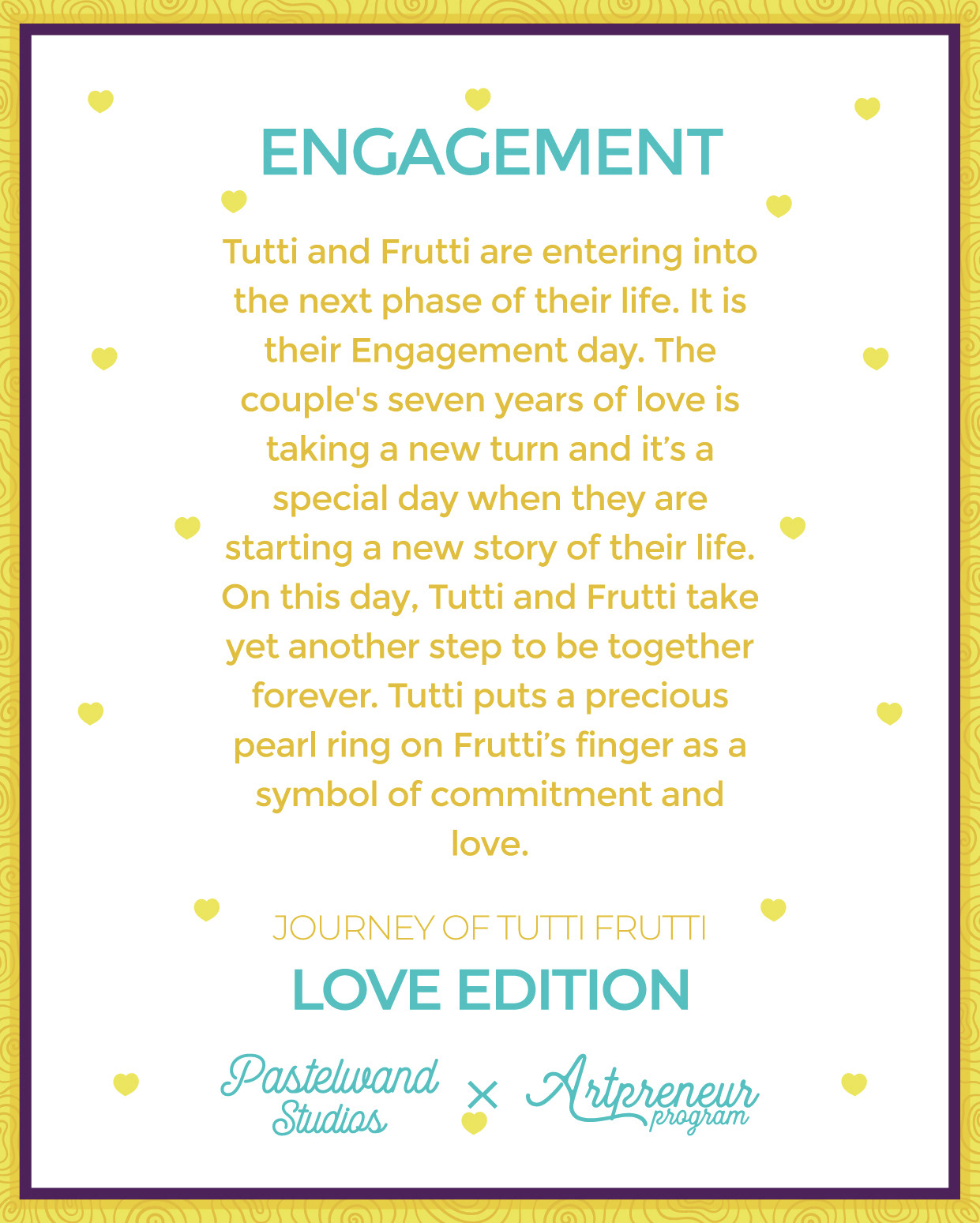 Engagement -Tutti and Frutti are entering into the next phase of their life. It is their Engagement day. The couple's seven years of love is taking a new turn and it's a special day when they are starting a new story of their life. On this day, Tutti and Frutti take yet another step to be together forever. Tutti puts a precious pearl ring on Frutti's finger as a symbol of commitment and love.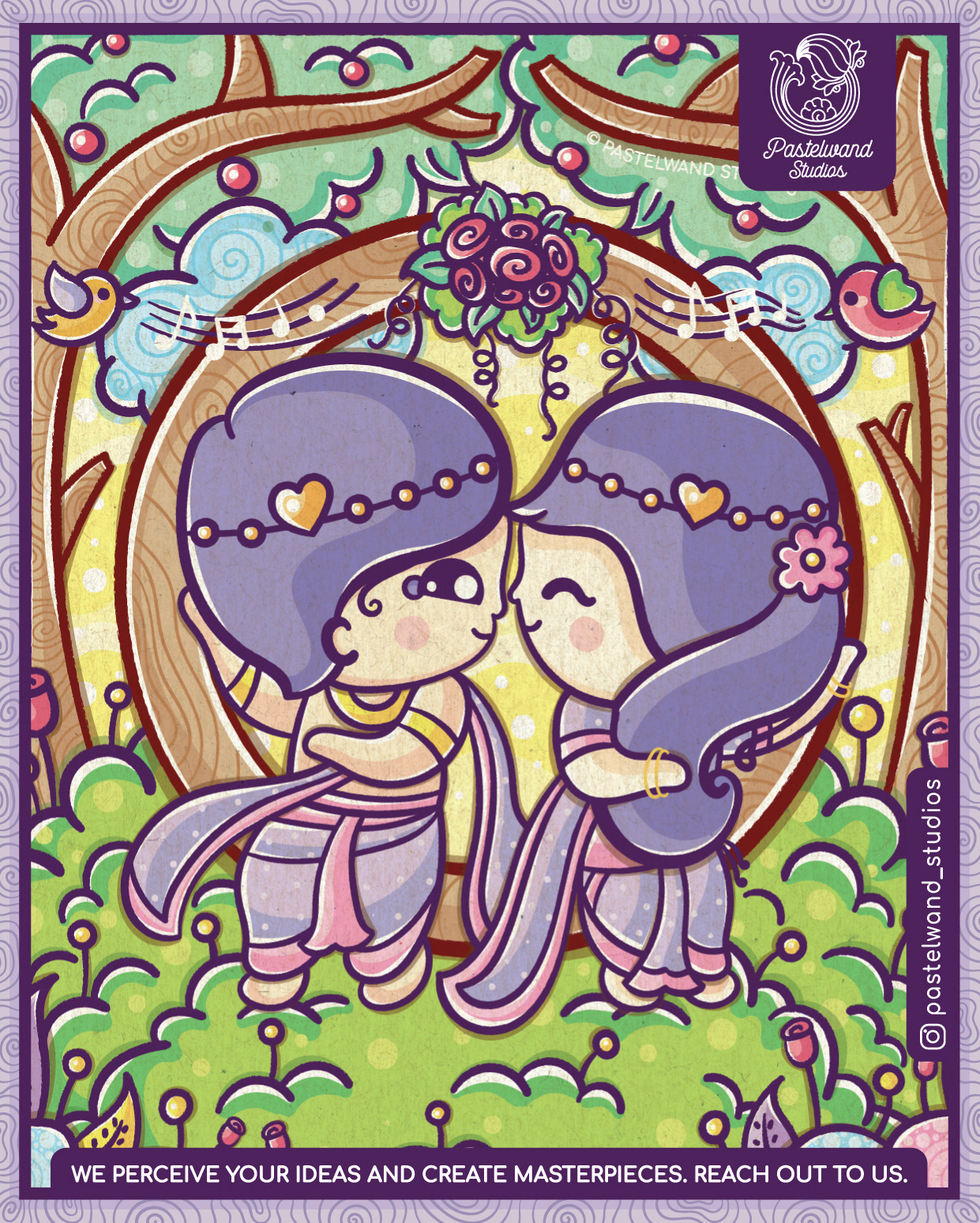 Sangeet - It's the Sangeet of Tutti and Frutti. A party day, where they both dress up like dolls, sing their favorite songs and enjoy the day by dancing together. The celebration is out of the world and glorifies their love forever. 
Mehendi - The Mehendi day is celebrated on the previous day to the wedding of Tutti and Frutti. Tutti wants to apply Mehendi for his girl on his own. Tutti never fails to express his love for Frutti in every possible way. Thus, their bond gets closer day by day. 
Wedding - The Big Day! 
The dream day of Tutti and Frutti has commenced. They have planned their auspicious wedding to happen in the presence of the Pancha Bhoota - land, water, fire, air and space, the five fundamental elements of every life. The couple wear their beautiful wedding costumes and exchange the garlands which signify the exchange of their love, support, respect, commitment and care to the other.