Hand-Lettered in Adobe Illustrator using Wacom Tablet
Marriage is said to be a sacred bond between two souls. Our Bespoke

Wedding

invitation is designed to capture the essence of this eternal promise. It features the enchanting illustration that symbolizes the unwavering commitment of two souls to take on the joys and challenges of marriage together.
What makes this invitation unique is the playful twist on traditional lettering. The phrase "

Kettimelam Kettimelam

" is rendered in a circus style, giving the invitation a bold and eye-catching look that perfectly complements the lively illustrations of peacocks beating drums and fish blowing flutes. 
We are sure that this invitation will delight and enchant all who receive it, inviting them to be a part of a truly unforgettable celebration of love, tradition, and commitment.
Sketches Visualisation of Wedding - Thumbnail, Rough sketch & Refined sketch
Inking (Outline) Illustration of the Wedding Invite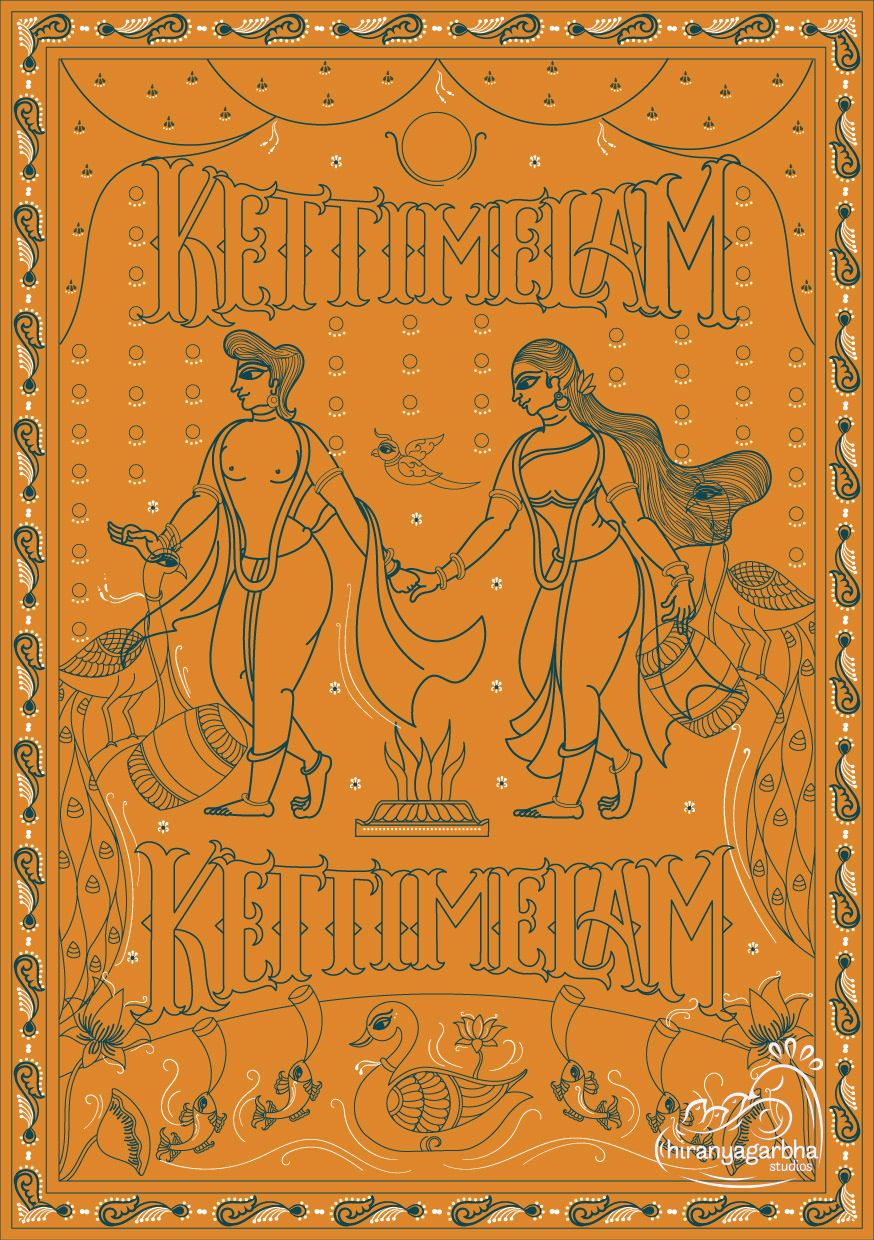 Illustration Colour Blocking
With the beats of the Kettimelam, the music intertwines, making us feel the unheard music of the celebration of union deep within our souls. The vibrant colors and intricate patterns, inspired by the Orissa pattachitra art form, create a sense of joy and radiance that is truly infectious.
Final Illustration - Kettimelam Illustration - Front Side of the the Invitation Card
Wedding Information Details - Rear Side of the the Invitation Card
Kettimelam Wedding Invitation Envelope Design
Pattern Brushes used in the Illustration
Wedding Invitation - Front Side of the A5 Invitation Card Visualisation
Wedding Event Details - Rear Side of the A5 Invitation Card Visualisation
Kettimelam Wedding Illustration - Digital / eInvitation
Welcome Board Visualisation - Wedding Illustration
Framed Art Print - Wedding Merchandise - Return Gift for Wedding Guests
Thanks a lot for viewing the Project. Please Comment and Share your views on the Project. 
For invitation & Merchandise enquiries, send an email to
hiranyagarbha.studio@gmail.com